Cashing in on plastic
By BILL VOELKER Business writer
Pam and Mike Keller pack plastic cups at Hot Stamped Cups, Inc.: They expect to sell more than a million cups this year.

staff photos by G.E ARNOLD
Cups: Couple's business runneth over in Metairie
Hot-Stamped Cups Inc. of Metairie is a genuine mom-and-pop business that's ready to boom. Its owners are quite confident of that.
They've done pretty well so far. The company will sell more than a million cups with designs hot-stamped into the cups' surfaces this year. The climax will come at Christmas when it starts to deliver 50,000 red and green cups for the Christmas Spectacular at Radio City Music Hall in New York.
The company had sales of about $211,000 in the last 12 months, but Mardi Gras 1989 will account for 90 percent of this year's sales. So the owner, Mike Keller, 33, and wife, Pam, 32, have a goal to make the business a year-round affair.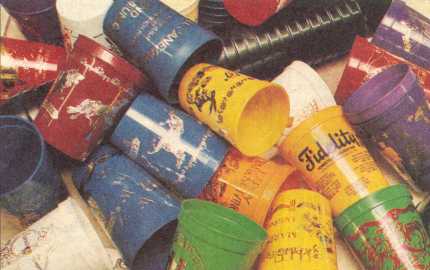 A selection of cups produced by Hot-Stamped Cups Inc. of Metairie.
Certainly, it's had a lot of different customers. The company has made cups for the 50th anniversary of the publication of "Gone With the Wind," and the premier of the movie "Great Balls of Fire."
Fats Domino also pestered Keller in a friendly way until he delivered an extra 500 cups printed for a star-studded Cinemax production at the Storyville Jazz Hall in the French Quarter that included Ray Charles and Paul Shaffer.
The Kellers even went to the Washington, D.C., Mardi Gras Ball in 1988, delivering a special order of Hot-Stamped Cups.
And Hot-Stamp pumped out 100,000 commemorative cups for the 1988 Republican convention at the Superdome.
This year, from their business at 828 Trudeau Drive, the Kellers will market more than a million colorful plastic cups hot-stamped with distinctive designs from rolls of gold, silver or copper foil.
That volume is up from 155,000 in 1986 and is more than twice the 1987 production. In 1988, the last year the marketing was handled by a sales agent, the volume was 600,000.
The cups are bought from a St. Louis area company and fed into two stamping machines by part-time employees, mainly college students. One of the machines was custom-built for the Kellers by Ron O'Connor and Chris Greve in Greve's Madisonville, La., machine shop.
The novelty of the cups seems to do the marketing.
The Kellers' cups will join the Rockettes at Radio City because Mike Keller sent a sample to Radio City's promotions director, Joan Oury, to answer an ad in Variety magazine.
The first sample elicited a polite "maybe." A second sample caught the fancy of the music hall management.
Two weeks ago, Radio City ordered 10,000 cups a week for its eight-week Christmas celebration.
Hot-Cups (that's how you can phone the company) was born four years ago in an enclosed carport.
Keller had spent five years with two companies that sold disposable paper cups, and he was intrigued by the potential of custom-decorated cups thrown to crowds at Mardi Gras parades.
Though printed or silk-screened plastic cups have been on the market for more than a decade, Keller said his idea of using foil embedded in the surface of the cups under heat and pressure was unique. It came about because he was looking for a cheap production process.
"I really couldn't afford a half-million-dollar six-color offset press, and I wanted something other than silk-screening, which is good for doing small batches," he said.
A little luck led to a solution. Keller's brother Jerry mentioned that a secretary at his office said her father and brother had a Tampa, Fla., business that foil-embedded flat items like keychains for Disney World.
The younger brother badgered Keller for days to call Tampa, and he finally made the phone call just to get his brother off his back.
That call paid off by leading Keller to D&P Manufacturing Co., a Connecticut company that made the Florida company's machinery. D&P agreed to experiment with converting a flat-production machine to do conical work - for $1,200.
Keller was skeptical D&P could do the job, but he sent the money along with some plain plastic, souvenir-quality cups. D&P supplied the metallic foil.
"When I got the samples back, I knew I had a hit. They were beautiful - more elegant and classy than the painted kinds," Keller said.
The adapted machine was shipped south, and eventually the Kellers bought the faster self-feeding machine.
Keller believes his product has a distinctive look and competitive edge over the paint-decorated cups produced by Giacona Container Corp of New. Orleans.
And he thinks his business' will be up 30 percent in the next 12 months.
He's also confident he can outmarket J. Clark Promotions, which also sells foil-embedded cups. In a civil suit, the Keller allege J. Clark's cups are processed on a machine copied from, his while it was housed in the warehouse of J. Clark owner James Clark. Clark was the Kellers' sales agent from 1986-88.
The Kellers plan to add two more stamping machines to handle different sized cups and multi-colored foil-embedded cups. "I've had calls from Michigan asking me to franchise the business Keller said. "But I'd prefer to expand my own operations and gear up to meet the demand."